No true "post race" today because I'm at my friends' wedding--congrats Meg & Daron!
In 2004 Speed Channel (now FS1) premiered a novel concept for a TV show: a weekly reality series about three semi-independent Busch (now Xfinity) Series teams that occupied what could be described as the "middle tier" of performance. NBS 24/7 (Nascar Busch Series 24 Hours / 7 Days) became something of a cult hit with hardcore Nascar fans, shining a light on a part of the sport that was little-known to the outside world. The show would last three years before cancellation, but what happened to the drivers who were featured on the series? Let's take a look:
Tim Fedewa: Timmy made virtually his entire racing career in what is now known as the Xfinity Series, posting four wins relatively early in his 333 race career. Featured on the show as the driver of the FitzBradshaw 14 car, he would later transition back to a role as a spotter, and currently works as Kevin Harvick's spotter in the Cup Series.
Casey Atwood:
Best-known as one of a number of "the next Jeff Gordon"s the sport saw around the turn of the millennium, Atwood had a brief Cup Series run with Dodge before moving back to the then-Busch Series with FitzBradshaw. Atwood would controversially be removed from the FitzBradshaw Navy-sponsored 14 car prior to the end of the 2004 season in favor of David Stremme (see below), who was under contract to the Ganassi Cup team that was co-owned by team owner Armando Fitz's father-in-law, Felix Sabates. After a few years as a journeyman Atwood has retired from national-series driving and occasionally races late models in the Nashville area today.
David Stremme: The longtime Ganassi development driver Stremme had a star-crossed first run in the then-Busch Series, running with numerous teams and posting inconsistent results. He appeared to find at a home at Braun Racing driving the TrimSpa-sponsored car (usually #32) before a string of mediocre runs saw him released from the ride late in the year. Ironically he would find a new ride with another NBS 24/7-affiliated team, FitzBradshaw Racing (see above). After another year with FitzBradshaw in 2005, he would ascend to the Cup Series, posting disappointing results for two years with Ganassi and nearly a full year with Team Penske. After retiring from national series driving without a single Nascar win, he now operates a racecar building company.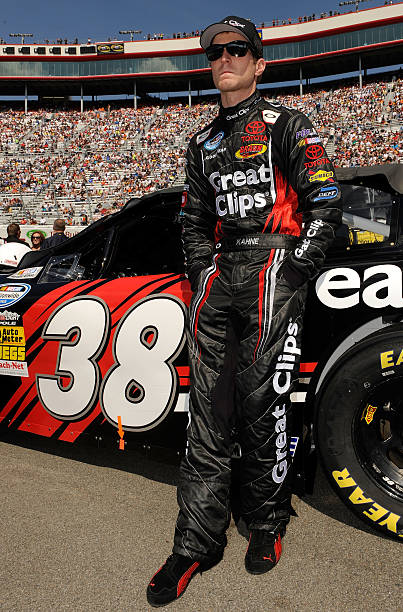 Kasey Kahne:
The former Ford developmental driver was the somewhat surprising choice to take over for Bill Elliott in the Cup Series for Evernham Motorsports in 2004. Akins Motorsports followed suit and Kahne ran nearly the entire then-Busch Series schedule for them that year, returning for a partial schedule in 2005. After 18 Cup Series wins primarily with Evernham Motorsports and Hendrick Motorsports, health issues forced Kahne into retirement from Nascar near the end of the 2018 season, although he has continued to race sprint cars.
Shane Hmiel: The son of longtime crew chief and executive Steve Hmiel, the fiery Shane drew attention early-on for his aggressive racing style and sometimes explosive temper. After a drug suspension early on he returned to Nascar in 2004, making cameo appearances with NBS 24/7 teams Akins Motorsports and Braun Racing, signing full-time with the latter by the end of the season. For 2005 (season two of the show) a major marketing campaign revolved around TrimSpa's WINfuel product line, featuring extensive advertising with Hmiel and real-life friend Dale Earnhardt Jr. However, Hmiel's racing career—and Braun Racing's involvement with the show—ended suddenly when Hmiel failed another drug test, leading to a lifetime ban from the sport. Hmiel used the suspension as a wake-up call, turning his life around and restarting his racing career in sprint cars. Sadly, a vicious wreck would leave him paralyzed in a wheel chair, although he has maintained his involvement in racing, fielding USAC sprint cars, to this day.
Tyler Walker: Coming from a long line of sprint car racing Walkers, Tyler first impressed in sprint car racing, catching the eye of Kasey Kahne. Kahne would field Walker for his sprint car team and use him as a driver for Akins Motorsports in 2005, running races Kahne couldn't due to his full-time Cup career. Due to his wild racing style he was let go from Akins and would embark on a journey that would see him succeed in sprint cars but fail to impress in stock cars. Later, he would make headlines for a number of incidents—a profanity-laced tirade at a sprint car track, a fight at a Los Angeles night club, and leading police on a three-state chase on Interstate 15. He has raced intermittently in sprint cars in the past few years.
Joel Kauffman: Kauffman, with experience in such varied racing styles as mini-sprints, late models, and USAR, was given a seven-race tryout with FitzBradshaw Racing in 2005. Slated to go close to full-time in 2006 as part of NBS 24/7's "The Rookies" rebrand, he failed to post a top-20 in 11 starts (plus failing to qualify for two other races) and was released from the team. He has not raced in Nascar since and was most-recently working for a boating company in Mooresville, North Carolina.
AJ Foyt IV: The grandson of the legendary AJ Foyt, the younger Foyt failed to make an impression running IndyCars and signed a developmental deal with Evernham Motorsports to come to Nascar. Debuting with Akins Motorsports late in the 2005 season, he was also part of the NBS 24:7 "The Rookies" rebrand for 2006. However, after failing to post a single top-20 in seven starts he lost his ride, making a single run with FitzBradshaw Racing (failing to qualify) later that year before returning to IndyCar. After infamously quitting his family-owned team during 2010 Indy 500 time trials, he has since gone to work for the Indianapolis Colts NFL franchise, which his father-in-law owns.