Nascar has a long and storied history, but it also has a past littered with "What If?" questions. Join author Mike Mackler as he takes a look back at stock car racing's 100 most-intriguing hypotheticals in "100 Stock Car Racing 'What Ifs'", the book available on Amazon in both Paperback and Kindle formats. Here's a preview of one of the one hundred "What If" questions asked throughout the book: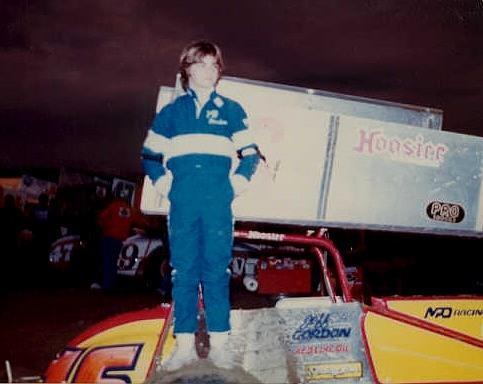 The boy who became the man who would
change motorsports
4. What if Jeff Gordon had gotten a ride in IndyCar?

Background: Jeff Gordon was lighting the sprint car world on fire in the late-80's. The time-honored tradition of moving from sprint cars to IndyCar had been broken as IndyCar had become dominated by road courses and foreign drivers—as well as foreign money.

What Actually Happened: Gordon went to an IndyCar race garage, but was shunned by team owners once it was discovered that he had no sponsorship or outside funding. Despite the pleadings of John Andretti, nobody would give him a chance. Then AJ Foyt told him to take a look down south…

What Could Have Been the Turning Point: What if someone in IndyCar took a risk to foot the bill, realizing that he had the chance to become JEFF FREAKING GORDON?

What COULD Have Happened: An IndyCar team owner could have put Jeff in an Indy Lights (IndyCar's version of the Xfinity or Truck Series) ride for a year, then move him up to IndyCar. One would have to think that with Jeff's natural talent he could perform well enough to attract sponsorship.
One of Jeff's many Indy triumphs
And if THAT Happened…: IndyCar would have had its American Golden Boy years before "The Split" that tore it apart. Perhaps Tony George and CART team owners would realize there's far too much money to risk it on a split, staying together in the process.

What Else Could Have Happened: Well, Nascar loses its ticket to the Manhattan boardrooms. Who knows what the sport evolves to in pop culture's eyes without its frontman. Perhaps Dale Sr. finally wins that 8th Cup championship with one less competitor. Does Hendrick Motorsports become the juggernaut it could without Gordon? And does the world ever hear about IndyCar's actual American Golden Boy, Tony Stewart?
Why It Had to Turn Out The Way It Did: Bringing money along to get a ride is a fact of life in almost any racing series. Luckily the right people in stock car racing saw Jeff Gordon's potential and gave him the chance to achieve it.
Get it NOW at 100whatifs.com!