Dale Jr. stands next to his replacement
driver--Alex Bowman--and replacement
car--the Chevy Camaro.
Spade Racing's 6 for 6 offseason series returns next week
Happy New Year, everybody! As we power into 2018, you might be wondering where the dust has settled in arguably the busiest Nascar "Silly Season" in recent memory. Well, that's where your good friends—well, ok, friend—at Spade Racing comes in!
WHAT'S THAT ABOUT DALE JR. LEAVING?!? Yep, Dale Earnhardt Jr., Nascar's most-popular driver, announced his retirement and has officially driven off into the sunset, minus a few Xfinity Series races over the next year or two. He'll be sticking around the sport, however, as an analyst for NBC Sports' Nascar broadcasts.
WHO ELSE IS GONE? Matt Kenseth announced mere weeks before the end of the season that, lacking a contending ride for 2018, he'll be taking this upcoming season off, although one would have to think it would take something crazy to find him back racing in Nascar full-time in 2019. Meanwhile, Danica Patrick, also lacking a ride for 2018, has announced she will run in the Daytona 500 and Indy 500 next year, then retire from racing.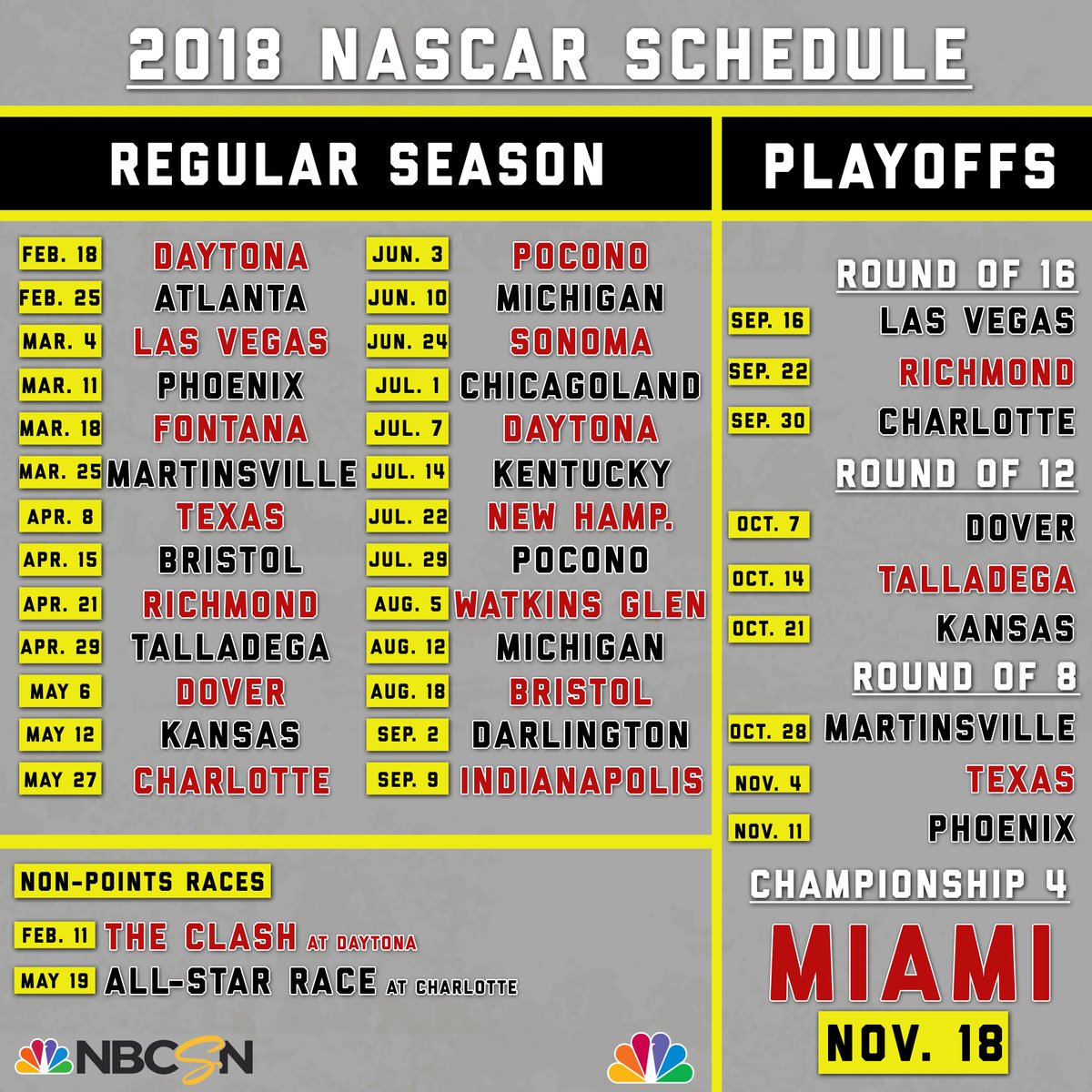 BIGGEST SCHEDULE CHANGES:
--Daytona starts a week earlier, giving us three off-weekends
--Chicago moves to mid-summer
--New Hampshire loses its 2nd date
--Indy is now the final "regular season" race
--Las Vegas gets a 2nd race, which opens the Playoffs
--Charlotte's Playoff race will be on the "Roval" road course
EARNHARDT JR, KENNETH, EDWARDS, STEWART, GORDON—WHY ARE SO MANY DRIVERS CALLING IT QUITS? There's many reasons, but the main one is money—now that the boom period gravy train has derailed, drivers simply aren't getting paid as well as they once were. Nascar is much safer than it has ever been, but too many drivers, looking at a secure financial future from shrewd deals in the past, simply don't want to be risking their health (and lives) for less money.
IS NASCAR'S DOWNTURN IN POPULARITY DUE TO SO MANY BIG-NAME DRIVERS RETIRING, OR ARE SO MANY BIG-NAME DRIVERS RETIRING BECAUSE OF NASCAR'S DOWNTURN IN POPULARITY? Yes.

OK, OK, SO WHO'S MOVING AROUND FOR 2018? Glad you asked! Here's where everybody's wound up now that the music has stopped for this season's game of Musical Racing Seats:
—Erik Jones slides over from the 77 Furniture Row car to take Matt Kenseth's spot in the 20 Joe Gibbs Racing car. The 77 team is shutting down with sponsor 5-Hour Energy moving over to Furniture Row's remaining team, reigning champion Martin Truex Jr.'s 78.
—Alex Bowman moves into Dale Earnhardt Jr.'s former ride, the 88 Nationwide/Axalta car. Beyond that there's some car number changes at Hendrick Motorsports—Chase Elliott's ride will now be the #9 car (in honor of his father), while William Byron moves up to the former #5 car—renumbered to the 24—to compete for Rookie of the Year honors and sponsorship from Liberty U and Axalta.
—Released from the former #5 ride, Kasey Khane moves over to the Leavine Family Racing #95 car.
—LFR's former driver, Michael McDowell, goes to Front Row Motorsports, where he'll team with David Ragan, sponsors and number assignments to be determined. Currently former FRM driver Landon Cassill looks like the "odd man out" without a ride for 2018.
—Kurt Busch looked like he could be leaving Stewart-Haas Racing, but has instead re-upped for another year.
—Aric Almirola takes his talents—and Smithfield sponsorship—from Richard Petty Motorsports to SHR's #10 ride, formerly that of Danica Patrick.
—After a messy breakup, Smithfield will still support RPM's famed #43 ride in some form, although not as the primary sponsor. ROTY-candidate Bubba Wallace Jr. will take over for AA in the 43, which will switch from Ford to Chevy (and an alliance with RCR).
—Speaking of famed rides, the Wood Brothers will have a new driver next year in Paul Menard, who will drive the #21 in 2018. Ryan Blaney will shift over to the long-dormant third Team Penske car, the #12.
—The only major ride left open as of now is Menard's former ride, the RCR #27. It has been linked to Brennan Poole and sponsor DC Solar, but could simply be shuttered for 2018.
WHEW—THAT'S A LOT OF CHANGES. ANYTHING ELSE I NEED TO KNOW? All Chevy teams will be running Camaro's instead of SS's (EssEssEs?) next year.
HOW ABOUT SPONSORSHIP SHIFTS? The biggest one, mentioned above, is Smithfield following Aric Almirola to SHR. Also, Target departed motorsports entirely, with Credit One taking over as the main sponsor of Kyle Larson's #42 car. And Brad Keselowski's #2 car will have sponsorship split relatively evenly into thirds with Miller Lite, Discount Tire, and Alliance Auto Parts.
SO WHO'S LEFT WITH SPONSORSHIP TO FILL? Well, many announcements could be forthcoming, but right now the biggest teams with major holes appear to be Chip Ganassi Racing with the 42, Joe Gibbs Racing with the 20, Richard Petty Motorsports with the 43, and, depending on how you consider in-house sponsorship, possibly the SHR teams of the 14 and 41.
UGH, OK, TELL ME—WHAT ARE THE RULES CHANGES FOR 2018? Surprisingly few—there'll be five men over the wall on pit stops instead of six, but other than that, things are pretty much the same…for now.