After last year's preview full of haikus, let's stay with the poetry theme with nothing but limericks for 2016!
Format: # Driver's name (Major Primary Sponsors)…* means ROTY candidate
Missing The Chase (bottom to the top)
*32 Jeffrey Earnhardt/Bobby Labonte (Can-Am, C&J Energy)
Should Bobby Labonte have retired?
Not if he still can get hired
As for Jeffrey, don't sob
Since he got a good job
Even though via how he was sired
95 Michael McDowell/Ty Dillon (Thrivent Financial, Cheerios)
Falk & Leavine made a barter
Reminiscent of Hass slash Bel Carter
They combined their teams
To achieve all their dreams
Of making a buck with a charter
Mike Tyson IS Tony Stewart IN "Smoke on the Dunes"
14 Tony Stewart/Brian Vickers/Ty Dillon (Mobil 1, Rush Truck Centers, Bass Pro Shops, Code 3)
It's time to say goodbye to Smoke
With Clint Bowyer set to pick up the yoke
Fans must come to grips
That Mr. Three Championships
Has one last chance to go for broke
46 Michael Annett (Pilot/Flying J)
Mike's in a bit of a pickle
His career's been a bit like Rich Bickle
Now Bowyer's here
A new shadow's near
For the driver of the car of Cole Trickle
38 Landon Cassill (???, Snap Fitness)
The FRM folks who hold sway
Replaced Gilliland with this play:
Treat your cars like a lease
(Bring 'em home in one piece)
And hire Landon Cassill today
*44 Brian Scott (Albertson's/Acme, Shore Lodge, Twisted Tea)
This team was the RPM 9
Which was in my opinion doing fine
Till they changed up the crew chief
On Marcos with no relief
And couldn't get DeWalt to re-sign
"It sounds so loud there, are you at a Nascar race?"
13 Casey Mears (Geico)
If Casey Mears is happy where he is
Then who am I to make fun of this?
A top-20, the goal?
Hey garage, take a poll:
Who has bigger career plans than his?
*34 Chris Buescher (Love's Travel Stops, ???)
In the old days a move like Chris made
To a team with one win would throw shade
But you gotta say "Ouch"
When you look on at Roush
And just be glad he's getting paid
17 Ricky Stenhouse Jr (Fastenal, Fifth Third Bank, Cargill)
With these poems I act like a joker
On the track Ricky acts like a choker
And his on-track strife
Is like my slow love life
In the end, we're both quite mediocre
Most people's reaction having to deal with the boss's grandson
7 Regan Smith (Toy State/Nikko)
The Little Team That Could keeps on chugging
And their new driver Smith keeps on plugging
If they just keep on going
Results will be showing
And the Nascar establishment will be bugging
6 Trevor Bayne (AdvoCare)
Don't get me wrong—Bayne's a nice guy
And he really seems to give a good try
But with a diff'rent team
And his results as they seem
Wouldn't his career's end seem nigh?
3 Austin Dillon (Dow, Cheerios, American Ethanol, Bass Pro Shops)
A controversy from well before
Was to bring back the number 3's lore
Old fans, they hate 'er
But Austin's like the Intimidator
That is, when he ran for Bud Moore
10 Danica Patrick (Nature's Bakery, Aspen Dental, TaxACT)
Another crew chief for talent maxing
But Billy Scott has to be asking
In the back she'll be mired
But HE will be fired
Is it just the co-sponsor that's taxing?
One of these drivers has a temporary ride that could win.
The other is Brian Vickers.
15 Clint Bowyer (5-Hour Energy, Peak, Visine)
In just one year I will suppose
We'll see what Clint already knows
You can get caught cheatin
And always get beaten
And STILL come out smelling like a rose
47 AJ Allmendinger (Kroger, Kingsford/Clorox, Scott, Bush's)
It's nice that The Dinger has found out
That in life, what it's really all about
Is just good, clean fun
Which he found can be done
In a small team with sponsors from a cookout
16 Greg Biffle (???, Cheez-It, KFC)
With Ortho gone, Biff must be worried
That the Roush-Fenway team will be buried
His retirement's coming soon
But if the Sawx change their tune
His departure from Cup will be hurried
27 Paul Menard (Menards)
Like a storm that you feel in your joints
Ironically, this is the Wood Bros. cable provider
You just know that John Menard soon anoints
A sponsorship teams sought
With a small little caveat:
The driver's sideburns will have points
*21 Ryan Blaney (Motorcraft, ???)
With the 21 no longer part-time
The Woods have re-entered their prime
But if Penske decide
To restart his third ride
Then their comeback will stop on a dime
*24 Chase Elliott (Napa, 3M, Kelley Blue Book, Mtn Dew)
With Jeff Gordon out of the fold
It's time for the facts, hard & cold:
Bill Elliott's son
Winds up being the one
Who at Daytona makes me feel OLD
CHASE DRIVERS
Round of 16 (Ted Musgrave Family Channel/Primestar Round)
5 Kasey Kahne (Farmers, Great Clips, LiftMaster, Quicken Loans, Panasonic)
People ask how does Kahne keep his ride
When he's rarely on Hendrick's winning side
Well the history shows
Its where weakest links goes
Going back to when Rudd ran for Tide
Your #1 Source for Let's Make a Deal Reruns (in 1994)
1 Jamie McMurray (McDonalds, Cessna)
Jamie McMurray ain't winning
Like he did practically from beginning
But he still has a ride
So his time he will bide
Until owner Rob Kauffman stops grinning
43 Aric Almirola (Smithfield, Air Force, STP)
Aric had a "meh" kind of year
In a number that makes most fans cheer
But the second half of the season
Is when his sponsor gives reason
For NBC to treat him most-dear
11 Denny Hamlin (FedEx, Sport Clips)
Denny's been around for a while
And as for wins he's got a pile
But to take home a Cup
He still has to step up
And stay injury-free with a smile
Round of 12 (Derrike Cope Mane n'Tail/Straight Arrow Round)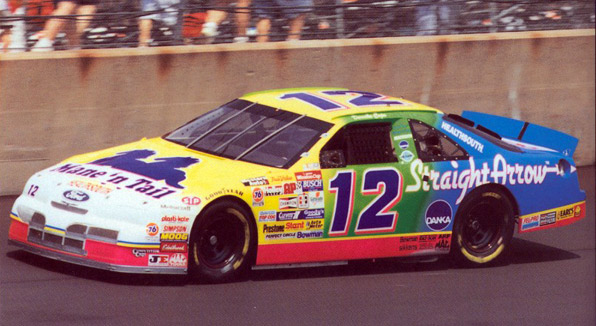 By combing his mane, he got some tail
31 Ryan Newman (Caterpillar, Wix Filters, Grainger)
As a winner, Ryan Newman's no faker
Even though he's a championship forsaker
He's a lot like his mentor
That he had those years before
A tribute to the late Buddy Baker
42 Kyle Larson (Target)
Kyle's really got to deliver
Or his career will be sent up the river
I know he runs steady
But c'mon: Kyle Petty
Has more wins in the 42? *SHIVER*
78 Martin Truex Jr. (Furniture Row, Bass Pro Shops)
It took Martin going afar
To reclaim his spot as a star
And it must be quite easy
That with no sponsor for pleasing
He's driving the company car
88 Dale Earnhardt Jr. (Nationwide, Axalta, Mtn Dew)
Dale Jr's winning again
And his fiancee's clearly a 10
Seems his life is so swell
But it soon will be hell:
"The Revenge of the Cueball Head Men!"
Where Service is State-of-the-Art (wait, no it wasn't)
Round of 8 (Hut Stricklin Circuit City Round)
20 Matt Kenseth (Dollar General, DeWalt)
Kenseth fans, they sure are loyal
To their driver from their Wisconsin soil
So even when he's crazy
Morality's hazy
When if Joey did it their blood would boil
2 Brad Keselowski (Miller Lite, Alliance, Wurth)
The Captain stands by Keselowski
Even though Brad courts controversy
So yeah he's a pain
—who can find vict'ry lane
After all, champions don't act mousy
19 Carl Edwards (Arris, Stanley, Subway, Sport Clips, Comcast)
For Carl, the gospel is holy:
For a Cup, its like a hot hockey goalie
A late-season streak
Means the right time to peak
And at Homestead, yell "Holy Guacamole!"
22 Joey Logano (Shell/Pennzoil, AAA, AutoTrader)
Joey was championship-bound
But a wreck caused by Matt's what he found
When you anger the best
And try and stick out your chest
Fight back or you're stomped on the ground
Must've used 110 film by mistake
Round of 4 (Mike Skinner Kodak Round)
18 Kyle Busch (M&M's, Interstate)
Looks, they're not all that deceiving
When for class and for politeness you're grieving
If THIS champ reps the sport
Then I'm quite of the sort
Who can see why Sprint's finally leaving
41 Kurt Busch (Monster, Haas)
It's been quite a strange Cup career
For Kurt it's been highs, lows, and fear
The bad that there's been
Offset since he can win
Guess he's worth being a pain in the rear
4 Kevin Harvick (Busch, Jimmy Johns, Outback, diTech)
Happy will sure beat the tar
Out of anyone who bumps in his car
But even when he gets mad
He says, "Not so bad,
At least I don't have to run RCR"
Only 1 Number One
And your 2016 Champion is... (Rick Mast Skoal Round)
48 Jimmie Johnson (Lowe's)
His on-track skills leave him so feared
But I still kinda find it quite weird
That with Jeff Gordon gone
The biggest star going on
Is a guy with a neatly-trimmed beard