Just like when they switched to radial tires!
Today AJ Allmendinger completed one of the most-impressive comebacks in Nascar history--little more than two years ago he was suspended for a drug violation, and now he's come back to win a Sprint Cup Series race. How'd he do it? Here's a look back:
August 2012: Allmendinger is released from Penske Racing. Those at Penske have nothing but good things to say about him, most-likely because he was being compared to Kurt Busch.
September 2012: Allmendinger completes Nascar's "Road to Recovery" reinstatement process, causing Jeremy Mayfield's head to explode.
October 2012: Allmendinger returns to racing with Phoenix Racing. Those at Phoenix Racing have nothing but good things to say about him, most-likely because he was being compared to Kurt Busch.
February 2013: Allmendinger signs to drive a limited Cup schedule with Phoenix Racing, which at that point was on the verge of shutting down due to lack of sponsorship for the 349th time.
March 2013: Allmendinger signs to drive a very limited Nationwide Series and IndyCar Series schedule with Penske Racing. Somehow, this leads to CART/IRL debates on message boards.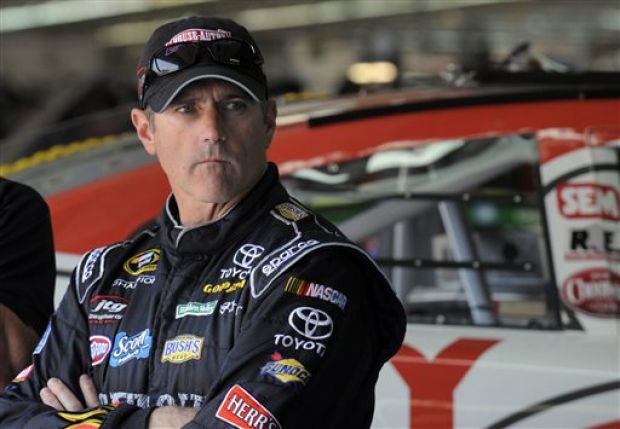 "Look Bobby, you can scowl all you
want, but we're not going to let you
in the car!"
June 2013: Allmendinger runs his first race for JTG-Daugherty Racing as a "test driver", which is slang for "Bobby, we really don't want to have to fire you, so just leave, ok?"
August 2013: Allmendinger scores his second win in the Nationwide Series, at Mid-Ohio despite skipping the previous race at Lo-Ohio and not entering the following race at Hi-Ohio.
September 2013: Allmendinger signs to drive the #47 car full-time in 2014 after being assured that the team would switch alliances to avoid any unnecessary social contact with Michael Waltrip.
March 2014: Allmendinger notches his first top-10 with JTG-D, finishing 8th at California in a race marred by Kyle Busch's victory.
June 2014: Allmendinger is in early contention for a win at Sonoma, but is wrecked by Dale Earnhardt Jr. Allmendinger is angry with Junior post-race, but avoids a physical confrontation due to fears of whisker burns.
August 2014: Allmendinger wins his first Cup race, also the first Cup win for JTG-D racing, showing what a marketing-driven team can do when Armando Fitz isn't their owner.