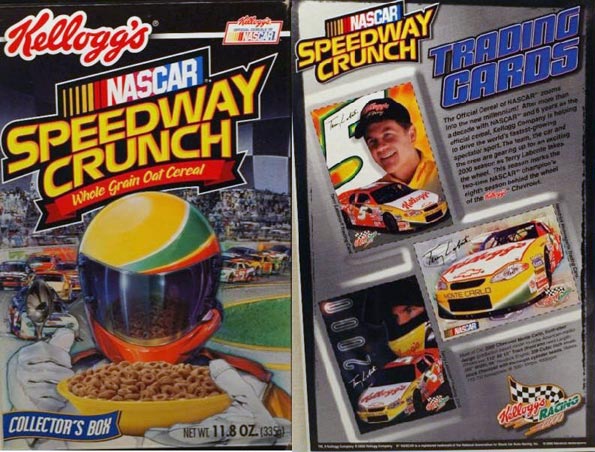 Does it taste like asphalt?
Jamie McMurray: Alpha-Bits—great when you were younger, but now you forget they're still around.
Brad Keselowski: French Toast Crunch—doesn't really fit in.
Austin Dillon: Pac-Man—just a well-known brand put on something mediocre.
Kevin Harvick: Rice Krispies—Snap(s off a great run), Crackle(s his car into the wall), Pop(s you in the mouth).
Kasey Kahne: Honey Smacks—pale imitation of the better one.
Trevor Bayne: Mr. T Cereal—popular way back when, now you can't figure out why.
Alex Bowman: Coco Roos—all the driver at 50% of the cost, in a nondescript plain package.
Sam Hornish Jr.: Croonchy Stars—no idea why it exists.
Danica Patrick: Special K—gets great promotion but is ultimately a bit disappointing.
Denny Hamlin: All-Bran—makes the, um, 'delivery' quicker than FedEx.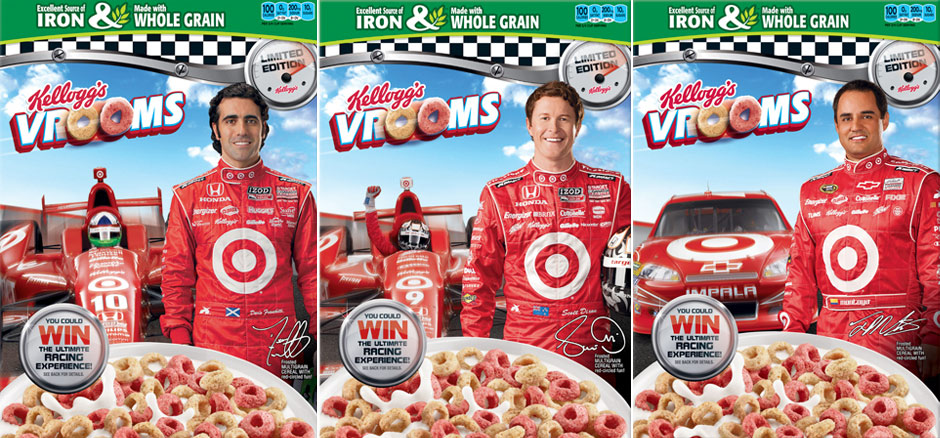 For the full IndyCar experience, eat
while nobody is watching.
Casey Mears: King Vitaman—still hanging on despite a lack of promotion.
Tony Stewart: Marshmallow-Blasted Froot Loops—a good idea at first, but starts to hurt you later on.
Clint Bowyer: Oops! All Berries—in honor of the most-honest answer Clint could've given after the Richmond debacle.
Greg Biffle: Nutri-Grain—gets the job done (serve in a deteriorating bowl).
Ricky Stenhouse Jr.: orange juice, milk, toast, and fruit—as in, "part of this complete breakfast".
Eddie Munster?
Kyle Busch: Quisp—only seems to be liked by weirdos.
Carl Edwards: Product 19—of course, unless they make a Subway cereal.
Matt Kenseth: Corn Flakes—preferrably dry.
Joey Logano: Golden Crisp—although JGR showed that they could get enough of that Golden Crisp.
Jeff Gordon: Total—you hated it before, but now you want to see it survive.
Paul Menard: Cookie Crisp—it's rich. Very VERY rich.
Ryan Newman: Mini-Wheats—versatile, efficient, but occasionally hard to swallow.
David Gilliland: Marshmallow Mateys—you think you bought it once before.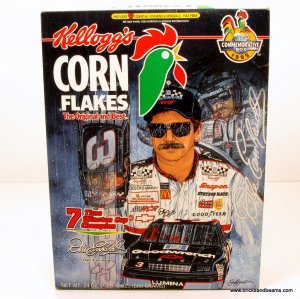 "OK, make sure the portrait makes
it look like he has no arms and has
a car coming out of his stomach.
Kurt Busch: Kaboom—limited availability.
Kyle Larson: Reese's Puffs—seem good, but the execution is lacking.
Aric Almirola: Kashi—you can't help but think that it would do better with a better company behind it.
Michael Annett: Eggo Cereal—it's just there.
AJ Allmendinger: Christmas Crunch—only good about once a year.
Jimmie Johnson: Cheerios—dully delicious.
Justin Allgaier: whatever cereal uses Brandt genetically-modified crops
David Ragan: Life—Mikey likes it (…for now).
Martin Truex Jr.: Cocoa Puffs—they only look plain.
Dale Earnhardt Jr.: Cinnamon Toast Crunch—always popular.