The race's "unsponsored" original name, now used as part of the Xfinity Series race.
NOTE: Due to this year's Coke Zero 400 running on Sunday Night, and due to my having a job, I will be unable to post a post-race recap. Instead, enjoy this semi-original research.
The Coke Zero 400—formerly the Pepsi 400 and the Firecracker 400—has historically been Nascar's halfway-point race, a summer extravaganza at The World Center of Speed. While the better-known Daytona 500 has produced its fair-share of upsets, the 400 is even better-known for being the site of a number of first-time (and, in at least two cases, only-time) victories. Here's a look back at the wide variety of drivers who scored their first points-paying wins in Daytona around the Fourth of July: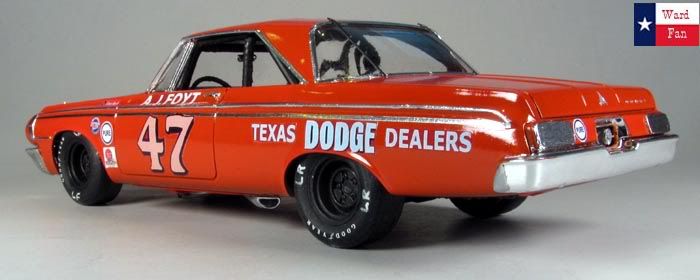 Foyt's race-winning car
A.J. Foyt, 1964—Arguably the most-versatile driver in American motorsports history, "Super-Tex" posted his first Grand National (now Cup) Series win in just his tenth start, outlasting Richard Petty and Bobby Isaac. Foyt went on to win six more races in his part-time Nascar career, including the 1972 Daytona 500.
Sam McQuagg, 1966—The only win for the usually-independent McQuagg featured a number of firsts—his Dodge Charger was the first car to feature a spoiler (now standard Nascar equipment), and he was also credited with being the first driver to bring a motorhome to Daytona. After a pair of nasty wrecks at Darlington, McQuagg moved to local short-track racing, eventually retiring to work as an airline pilot.
Greg Sacks, 1985—Sacks, better known throughout his career as a "super-sub", scored his only career Cup win under bizarre circumstances in 1985—circumstances that would lead to the collapse of his team, DiGard Motorsports. Sacks had been an independent journeyman whose family team had come into ownership of a car formerly driven by Cale Yarborough. The car was entered in the 400 with DiGard backing as a Research & Development car. Instead of simply gathering information on race setups, the car went to victory lane. Long rumored to have featured an oversized engine and/or a "gray-area" steering system, the car still passed post-race inspection. Furious that DiGard was focusing time and resources elsewhere, full-time driver Bobby Allison (who'd won the 1983 Winston Cup championship with DiGard) yanked his Miller High Life sponsorship, leaving the team in a matter of days. Within three years, the team was defunct.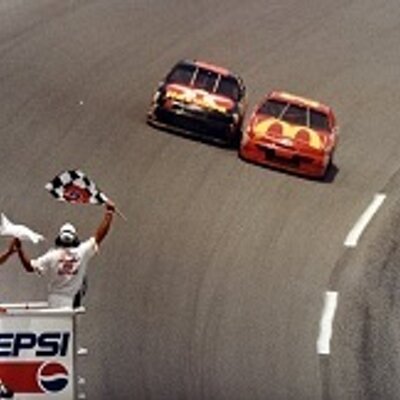 Jimmy (red car) squeezes by Ernie
(black car) for the win.
Jimmy Spencer, 1994—"Mr. Excitement" scored the first of his two Cup wins in the 400, but it wasn't easy. Spencer was driving for Junior Johnson's legendary team, but led only a single lap—the last one—that day, barely edging out Ernie Irvan. Spencer would earn his only other Cup win later that year at Talladega, going on to a journeyman career with a number of mid-level teams. The two wins in 1994 would wind up being the final wins of any kind for a Junior Johnson-owned team. To this day, rumors swirl that Johnson's car was less-than-legal, having been given extra leeway in order to get sponsor McDonald's into victory lane.
John Andretti, 1997—Despite having one of the most-famous names in motorsports, John Andretti had a rough go of it in his early Nascar career. Bouncing from ride-to-ride, he finally found success with Daytona master Cale Yarborough's #98 car, winning the 1997 edition of the 400. Andretti's first win wound up being the only win for a Yarborough-owned car. Andretti went on to win again at the polar-opposite Martinsville Speedway in 1999 for Petty Enterprises.
Greg Biffle, 2003—The winningest-driver on this list (in Nascar, anyways), Biffle won a fuel-mileage race in 2003 under the lights for his first-ever Cup win. It was the first of 19 Cup Series wins for The Biff, all of which have come with Roush/Roush-Fenway Racing.
David Ragan celebrates in victory lane
David Ragan, 2011—The Roush-Fenway driver nearly scored his first career win in the 2011 Daytona 500, only to be penalized late for a lane-violation on a late restart. After winning the non-points Sprint Showdown, Ragan continued his breakout year by scoring a win in the 400. Unfortunately, it wasn't enough to keep his team (and sponsor UPS) together, and Ragan was released after the season. He later went on to score an upset victory at Talladega in 2013 for Front Row Motorsports, and currently races for Michael Waltrip Racing.
Aric Almirola, 2014—The northern-Florida native had a rocky start to his Nascar career, leaving Joe Gibbs Racing after a driver-substitution incident at Milwaukee's Nationwide (now Xfinity) Series race, and enduring a volatile sponsorship situation at a declining Dale Earnhardt Inc. The 2014 edition of the 400 was much like his early career, with the race being delayed a day due to weather, then held under threatening skies. Almirola was able to win his first career Cup race when rain came on lap 112, thus returning a Richard Petty-owned car to Daytona's victory lane.