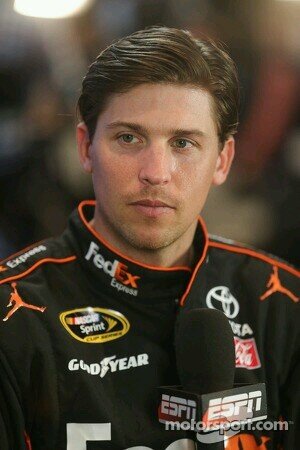 I saw Denny Hamlin doing
an interview in Vict'ry Lane
...and hair was perfect
Despite being attached to a driver with a tough run of luck recently, Denny Hamlin's Hair was finally able to find it's way to Victory Lane in the Aaron's 499.
"It's been a rough run lately", Denny Hamlin's Hair said in Victory Lane, "but I knew that we could do it as long as we stayed near the front. Joe Gibbs Racing gave us a great helmet to run in today, gotta thank all the styling products, we did it, man! Woo!"
Denny Hamlin's Hair is a longtime sports participant, previously collaborating with pro-wrestling executive Eric Bischoff. Upon joining Denny Hamlin this season, a fast start at Daytona was impeded by a rough stretch of races.
"I'd like to dedicate this victory to my friend, Denny Hamlin's Eye, who's still recovering", an emotional Denny Hamlin's Hair said. "We almost lost him at California, but he's been on the mend lately. We couldn't do it without him!"
Denny Hamlin, meanwhile, was mildly disappointed, but gracious, in defeat.
"My hair has been the best teammate I've ever had--yeah, Joey, that's right", Hamlin said after exiting his car. "You always want to win one of these things, but if I have to finish runner-up to anybody, I'm glad it's to my hair. It's been through a lot and deserves all of this."
Meanwhile, the tandem of Michael Waltrip's Hair and Michael Waltrip's Jug of Hairgel ran near the back of the pack for most of the race.