The 200 mph billboard
Thanks to the invention of graphical wraps for stock cars, special paint schemes aren't so special anymore. Instead of freaking out about Burger King replacing Mom N' Pops on Dale Earnhardt Sr.'s lower quarter-panel, anybody can be a sponsor for a single race. On the plus side, it makes it easier to promote a company. On the negative side, it means we fans have to listen to announcers whine about how hard it is to follow the cars.
But who's the most prolific at putting different sponsors on their cars?
The still unsponsored,
still unclaimed Hoodie trophy
That's where I come in. Using the indispensable
Jayski Paint Schemes page
, I went through to count the number of different sponsors on each car's hoods. The team with the most will then become the Third Annual Hoodie Award Winner.
Just a few ground rules:
--Sponsors owned by the same company (like Stanley & DeWalt, or Kingsford & Clorox) count as separate sponsors. But if its the same company with a different product (like 3M & 3M Filtrete), that counts as the same sponsor.
--Slight variations on a primary sponsor don't count--there has to be a change to the paint scheme noticeable to someone besides a die-cast geek.
--"Sponsorship partners", where a product sold by the sponsor is put on the hood, don't count either, since the company is a partner, not a sponsor. Sorry, Paul Menard fans.
--Team owners who put their own company on the hood also don't count--so Medallion Financial (owned by RPM honcho Andrew Murstein) and Taco Bell (franchised by Front Row owner Bob Jenkins) don't count. Nor do charities (exception: DTEF) or obvious placeholders like Ford Ecoboost. Same goes for blank hoods (aka the Michael McDowell Special).
--Modern iterations of the "Special Paint Scheme" don't count either--so movie cars, tv show cars, etc. aren't counted towards the final total, unless they are the legitimate sponsor of the car for that race.
Listed in order from least sponsors to most
13 Casey Mears 1 (Geico) Apparently that BBQ sauce recipe didn't include advice on how to find sponsorship partners.
The battle for the Hoodie rages on
(NOTE: This has nothing to do with
The Hoodie Awards)
27 Paul Menard 1 (Menards) The king of sponsorship partners retains his crown.
41 Kurt Busch 1 (State Water Heaters) Haas Automation doesn't count, although those CNC Machines are pretty sweet.
42 Kyle Larson 1 (Target) Every non-bullseye logo on the hood was a sponsorship partner of Target. Expect more, pay less, get exposure.
48 Jimmie Johnson 1 (Lowe's) Steady, consistent, and dull--this describes both the paint schemes AND the driver.
78 Martin Truex Jr. 1 (Furniture Row) Anonymous sponsor for an anonymous driver (well, in 2014 at least).
11 Denny Hamlin 2 (FedEx, SportClips) If SportClips gives you hair like Denny has, I think I'm gonna pass.
20 Matt Kenseth 2 (Dollar General, Home Depot/Husky Tools) Au revoir to longtime sponsor Home Depot, who leaves to become the source of Haas F1 sponsorship rumors.
55 Brian Vickers 2 (Aaron's, Treatmyclot) I still think that the clot-sponsored car should've been red.
"You'd BETTER keep those Shell
logos small, or there'll be Ultra93
HELL to pay!"
10 Danica Patrick 3 (GoDaddy, Aspen Dental, Florida Lottery) Much like playing the lottery, driving a GoDaddy sponsored car has been pretty disappointing.
22 Joey Logano 3 (Pennzoil/Shell, AAA Insurance, Auto Trader) Pennzoil Platinum is nice, but I'm still waiting on SuperFlo Tungsten or Wolf's Head Tin.
31 Ryan Newman 3 (Caterpillar, QuickenLoans, Kwikset) Ryan would've needed a Kwikset lock to keep Brian France from killing him if he'd won the championship with no wins.
5 Kasey Kahne 4 (Farmers, Great Clips, Pepsi, Time Warner Cable) The only thing louder than the Great Clips scheme was the criticism of Kasey's driving abilities.
14 Tony Stewart/substitutes 4 (Bass Pro Shops, Mobil 1, Rush Truck Centers, Code 3 Associates) Fun fact: Code 3's slogan ("Riders on the storm") resulted in Tony Stewart having The Doors stuck in his head all April.
24 Jeff Gordon 4 (DTEF, Axalta, Pepsi Real Sugar, Panasonic) 3M joins this bunch next year to participate in the "Let's Ask Jeff About Retirement Every Day" Tour.
38 David Gilliland 4 (Love's Travel Stops, MDS, Pete Store, CleanHarbors) In THIS David's case, he won once, but Goliath's been kicking tail every since.
88 Dale Earnhardt Jr. 4 (National Guard, Diet Mtn Dew/Kickstart, Nationwide, Kelley Blue Book) Nationwide prepares for a name change in 2015, going from Nationwide Insurance to Nationwide INsurance.
2 Brad Keselowski 5 (Miller Lite, Redd's, Detroit Genuine, Wurth, Alliance) Penske went old-school this past year, echoing the past with a retro Miller Lite scheme and recalling a time when something from Detroit was desirable.
In Austin's case, it's more along the
lines of "Respectful and Consistent
Boy Buggies"
3 Austin Dillon 5 (Dow, Cheerio's, American Ethanol, Bass Pro Shops, Bad Boy Buggies) Dow promoted several of its products on the 3 car, including Great Stuff, Mycogen Seeds, and SuperCheerios (not fit for human consumption).
4 Kevin Harvick 5 (Budweiser, Jimmy John's, Outback Steakhouse, Mobil 1, Hunt Brothers Pizza) Harv loses the only championship that doesn't matter.
7 Michael Annett 5 (Pilot/Flying J, Cypress HQ, Allstate Peterbilt, Golden Corral, Accell Construction) …and the mystery of why Pilot has stuck by Michael Annett for what seems like a decade rages on.
9 Marcos Ambrose 5 (DeWalt, Stanley, Twisted Tea, Black & Decker, Mac Tools) The RPM #9 team lost its driver, its major sponsors, and its best chances of winning on a road course. Yep, it'll be fiiiine.
15 Clint Bowyer 5 (5-Hour Energy, AAA Insurance, Peak, Charter, Willie's Duck Diner) Still surprised that Benadryl or Cortaid hasn't appeared on this car.
23 Alex Bowman 5 (Dr. Pepper, Dip Your Car, Dustless Blasting, Borla Exhaust, Dumb & Dumber To) From what I heard, the performance of this car was a pretty good allegory to the quality of Dumb & Dumber To.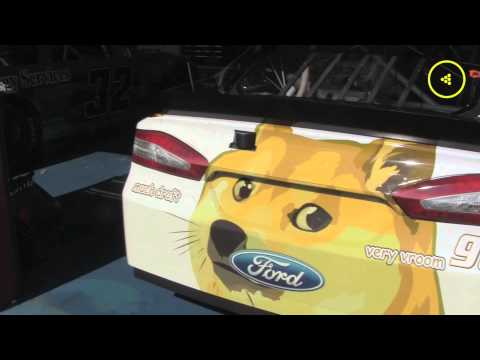 I'm pretty sure that dog(e) is made
of butter
98 Josh Wise 5 (Dogecoin/Reddit, Provident Metals/Zombucks, Trench Shoring, Vapor Station, Ambient Edge) Much sponsor. Wow.
16 Greg Biffle 6 (3M, Sherwin-Williams, Ortho, Bondo, Fastenal, Meguiar's) Biffle 3M16 says I just lost my sponsor!
18 Kyle Busch 6 (M&M's, Interstate Batteries, Banfield Pet Hospitals, Snickers, Skittles, Doublemint) Every one of these brands besides Interstate is owned by Mars Inc.--and yes, it IS creepy that a food company owns a pet hospital chain.
34 David Ragan 6 (CSX, Pete Store, Farm Rich, DockSide Logistics, MDS, Plimpton & Hills) You brake for trains, I brake for team owner-owned businesses.
83 Ryan Truex/JJ Yeley 6 (Borla Exhaust, Dumb & Dumber To, Zak, Dip Your Car, Painter's Ice Cream, VooDooBBQ) It's pretty bad when a crappy movie sequel is the most-reputable sponsor you've had all year.
99 Carl Edwards 6 (Aflac, Fastenal, Subway, UPS, Cheez-It, Kellogg's) But what of Aflac? What of the duck?!?
"Is that Zest you're wearing?"
"My woman likes me in reasonably-
priced scented soap"
17 Ricky Stennhouse Jr. 7 (Nationwide, Cargill, Eco Power, Zest, FifthThirdBank, Fastenal, NOS) A good chunk of the "empty space" will be taken by Fastenal in 2015, finally pairing a popular driver's boyfriend with a bolt-supply company.
1 Jamie McMurray 8 (McDonald's, Cessna, LiftMaster, Wemo, Lexar, Cushman, Bass Pro Shops, Bell Helicopter) Last year's champ comes back strong, but might be a Big Mac or Airplane short.
33 Ty Dillon/Brian Scott/CircleSportSmogasbord 8 (Charter, Amiga, Realtree, Thunder Coal, MediaCast, Shore Lodge/Whitetail, NBS, Mace) If NBS isn't followed by 24/7, I don't care.
36 Reed Sorenson 8 (FlasR, Accell Construction, ZingZang, American Muscle, Golden Corral, Theme Park Connection, Arrive Alive DE, Red Rocks Cafe) Anytime your hauler is blank, that's a bad sign.
43 Aric Almirola 9 (Smithfield, Farmland, Gwaltney, Eckrich, Nathan's, STP, Go Bowling, U.S. Air Force, Fresh From Florida) Waffle House doesn't count, since it was a partnership sponsor--they put STP in every dish.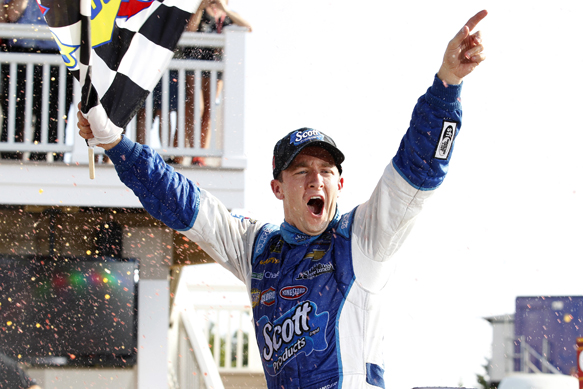 Soak up the glory, AJ
47 AJ Allmendinger 9 (Clorox, Kingsford, Glad, Hungry Jack, Bush's Beans, Charter, Miller/Freightliner, Kroger, Scott Products) The surprise Chaser with a surprisingly low number of sponsors (seemed like more like 50 or so).
66 Joe Nemechek and the Toyota All-Stars 9 (X8 Energy Gum, Testoril, MyAFIBStory, Royal Teak, Landcastle Title, Kansas Farm Bureau Insurance, Dustin Johnson, Blue DEF, Friedman Law Firm) Thankfully no dancebelt sponsorships here.
40 Landon Cassill 10 (CRC Chemical, Carsforsale, Harvey Gulf, NBS, Thunder Coal, Atlantic Plumbing, GF Gallery Furniture, Square HD, Snap Fitness, Nabi) …although there's no proof that Nabi ever sponsored a race, or even existed.
51 Justin Allgaier 10 (Brandt, VisitDallas, Auto-Owners Insurance, Collision Cure, Hendrickcars, Sherwin-Williams, AccuDoc Solutions, SEM, Plan B Sales, Carcoon) Finally, a cure for collisions!!!
Your winner!!!
26 Cole Whitt 12 (Speed Stick Gear, Tapout/Fuelxx, Uponor, Bad Boy Mowers, Rinnai, Moen, Iowa Chop House, Standard Plumbing Supply, Bully Hill, Toyota of Scranton, Scorpion, ScorpD) All the plumbing sponsors make sense, since this team seemed to go through contract agreements like water.
32 multiple drivers 15 (Forever Hip, 24-7 E-Cigs, CorvetteParts/Keen Parts, C&J Energy Services, Leaf Filter, U.S. Chrome, ReallyCheapFloors, RedBuck, SkuttleTight, Genny Light, Tryandrozene, 7-11, Crusader Staffing, SK Hand Tools, Ask More Get More) Multiple drivers, multiple sponsors, and the single winner of the 2014 Hoodie Award!!!